Promoting Inclusion Through Mental Stimulation
Volunteer!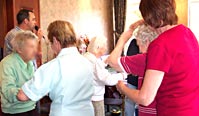 MIND Active is dependent upon volunteers to make a valuable contribution to older people living in residential care.
Volunteers do not need any formal qualifications or skills, only a desire to help to improve the lives of older people.
Only one hour per week or fortnight is all it takes to make a difference, and we will pay your expenses.
If you are over 18, only one hour of your time may improve theirs immeasurably.
Showing an interest in the Project does not commit you to joining.
They gave us our future: they deserve our respect and support.